Upside Down Brilliance
Upside Down Brilliance by Dr Linda K Silverman is now available again in Australia. Order Form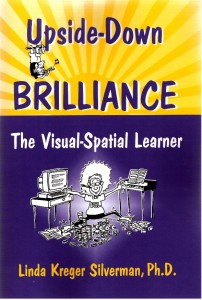 What people are saying about Upside-Down Brilliance: The Visual Spatial Learner
"Linda Silverman provides up with a holistic-visual-spatial perspective of the complexities of brilliant, but academically challenged minds. she offers an understanding of their upside-down world. More importantly, she tells us how their struggles can be overcome! "  Ronald D. Davis, author of The Gift of Dyslexia
Linda Silverman has been a pioneer in the field of visual-spatial learners. Much of what I know about this special population originated from my early contacts with Linda. This book casts much needed light on a subject very much unexplored in print. I am thrilled to endorse this book and hope it sells millions of copies". Jeffrey Freed, author of Right-Brained Children in a Left-Brained World.
Due to the high level of demand for this unique text we have obtained permission from the author and had a limited run of the book reprinted in Australia.
as at 1st January 2012  we have plenty of stock
Other Books
A have a range of specialist books for parents and teachers of gifted children.
They're not Bringing out my Brain by Rosemary Cathcart
Memorise in Minutes : The Times Tables